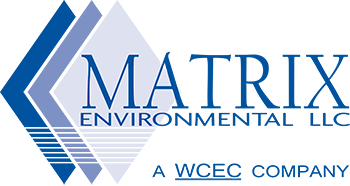 Matrix Environmental, LLC - A WCEC Company
WCEC has merged our contract services division with Matrix Environmental, LLC (Matrix) to strengthen our Direct Sensing, Direct Push Technology (DPT) and environmental drilling capabilities for our national and international clients. Matrix was established in 1993, and since that time Matrix has completed over 3000 projects in more than 25 states, Canada, South America and Australia.
With a combined 30+ years of related field experience and more Laser-Induced Fluorescence (LIF), Membrane Interface Probe (MIP) and Hydraulic Profiling Tool (HPT) sites completed than any other vendor, Matrix is the global leader in high resolution site characterization technologies. Our expertise enhances the success of our clients as we deliver reliable data and responsive service for every project. Our equipment operators are highly trained technicians and scientists that specialize in providing direct sensing technology services, working with our clients to maximize the efficiency of field operations.
We also offer 2D and 3D visualizations of site characterization data in static or dynamic formats. Our Integrated Site Visualization (ISV) method incorporates direct sensing data, aerial photographs, CAD models, and GIS terrain, lithologic and contaminant chemistry data to build robust conceptual site models, elevating the level of understanding among all stakeholders.
Projects completed by Matrix over the past 20 years include:
RCRA/CERCLA sites

DOE/DOD facilities

UST, AST, Bulk Terminal, Pipeline and Refineries

State and Federal Superfund sites

Industrial/Manufacturing

Landfills - Soil and Groundwater plume delineation and landfill gas (methane) delineation

Brownfield Redevelopment

Agricultural Chemical Investigation

Former Manufactured Gas plants

Wood Treatment Facilities

Phase II property transactions

VIC sites
---
Direct Sensing - High-Resolution Site Characterization (HRSC)
Matrix Environmental specializes in delivering high-resolution site characterization (HRSC) strategies and techniques to our national and international clients. HRSC incorporates scale-appropriate measurement and sample density to define contaminant distributions, and the physical context in which they reside. This greater degree of certainty supports development of robust and reliable Conceptual Site Models (CSM) and faster and more effective site cleanup than traditional site characterization strategies.
Explore our website to learn more about these direct sensing technologies offered by Matrix:
Laser-Induced Fluorescence (LIF)
Hydraulic Profiling Tool (HPT)
---
Direct Push Technology (DPT) and Environmental Drilling Services
Matrix provides the following direct push technology (DPT) and environmental drilling services:
Geoprobe® Services (All Terrain and Truck Mounted)
Continuous soil testing via Dual-Tube and/or Macro-Core samplers

Discrete soil testing via Dual-Tube or Large-Bore Samplers

Discrete water sampling via Screen Point 15 method

Conventional water sampling via 1"pvc screens and casing

Temporary and permanent soil gas monitoring points
Hollow Stem Auger Services (All-Terrain and Truck Mounted)
Matrix is a licensed monitoring well installation contractor in Minnesota, South Dakota, North Dakota, and Montana

Hollow-stem/Macro-Core Hybrid Continuous Soil Sampling
Well and Boring Sealing Services
Monitoring and potable well sealing

Site restoration and follow up reporting
---
Matrix Contact Information
Matrix contact information can be found on our Contact Us page and is also provided below for easy reference. We look forward to hearing from you!
Matrix Environmental, LLC, Mpls/St. Paul Metro Area, Minnesota
11253 91st Ave. N, Maple Grove, MN 55369
Tel: 763.424.4803
Fax: 763.424.9452
Matrix Environmental, LLC, Columbus, Ohio
P.O. Box 364, Galena, OH 43021
Tel: 740.965.8271
Fax: 740.965.8037
---
Matrix Environmental - Delivering Results through Technology and Service