Remedial Design and Installation
WCEC has designed, installed and/or operated over 50 remediation systems in Minnesota, over 20 remediation systems in Montana, and over 20 remediation systems in other states utilizing a wide range of technologies for sites impacted by agriculture chemicals, solvents, and petroleum hydrocarbons.
Remedial technologies implemented by WCEC to target dissolved-phase, sorbed-phase or free-phase contaminants include:
Air Sparging / Soil Vapor Extraction

In-situ Chemical Oxidation

Groundwater Pump and Treat

Multiphase Extraction

Free-phase Recovery with Automated Skimmer Systems

On-Site and Off-Site Soil Treatment
Prior to installing a remediation system, WCEC creates an extensive conceptual design, defining anticipated steps needed to reach site cleanup and anticipating life cycle design/costs. During system installation, WCEC's knowledgeable and experienced staff works closely with subcontractors to integrate the various system elements according to design specifications.
---
Solid Waste Landfill Design and Permitting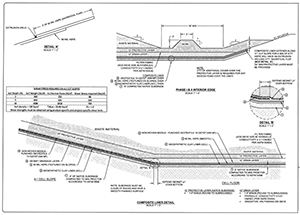 WCEC's approach to landfill design includes application of time-tested and emerging techniques that enhance environmental protection while controlling costs and protecting the interests of all stakeholders.
WCEC's team of scientists and engineers are at the forefront of comprehensive landfill facility planning, design, permitting, construction, operations, closure, monitoring and compliance. While developing and implementing new approaches to reduce, reuse and recycle, landfill operations are the backbone of solid waste management.
Landfills are a necessary component of the waste management strategy, driving the need for development of new initiatives and providing safe disposal of materials that cannot be otherwise recovered.
Our Solid Waste Landfill Design and Permitting services include:
Landfill site master planning, design and permitting

Liner and final cover design / geosynthetics

Geotechnical / site characterization / slope stability

Leachate collection system design / recirculation/bioreactor

Landfill gas collection and control

Infrastructure and stormwater control design

Landfill closure/financial plan/funding

Landfill reclamation/mining / redevelopment

Construction management, procurement
---
SPCC Plans and Secondary Containment Systems
WCEC prepares Spill Prevention, Control and Countermeasure (SPCC) Plans and is a distributor for Sioux Steel Dura Life® Secondary Containment Systems. For more information about our turn-key secondary containment products services, please visit the Regulatory Compliance section of our website.