Best Total Solution
We are an environmental services firm that provides the Best Total Solution to public and private sector clients for Environmental Consulting, Emergency Spill Response, Industrial Services and High Resolution Site Characterization. Our progressive approach to environmental consulting merges traditional, professional services with contractual services to provide our clients with all aspects of environmental services.

In 2015, WCEC celebrated 25 years of delivering peace of mind to our customers and their constituencies through sound technical approaches performed by committed professionals that are focused on results.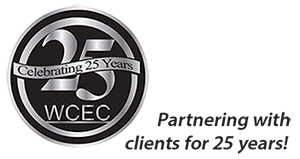 WCEC is committed to being a leader in each service line that we provide and seek to move the state of the industry forward while providing the highest quality services to our clients. Since 2016, WCEC has been an active participant in the Interstate Technology & Regulatory Council (ITRC) Industry Affiliates Program, engaging in the exchange of information on the development and deployment of innovative environmental technologies with access to a large audience of state regulators, federal agency representatives, leading environmental companies, members of academia, and public stakeholders.