WCEC High Resolution Site Characterization (HRSC) Services
WCEC specializes in delivering High Resolution Site Characterization (HRSC) strategies and techniques to our regional and national clients. HRSC incorporates scale-appropriate measurement and sample density to define contaminant distributions, and the physical context in which they reside. This greater degree of certainty supports development of robust and reliable CSMs and faster and more effective site cleanup. Supported by our long-standing business relationship with Dakota Technologies, (Dakota), the developer and leading expert of all commercially available Laser-Induced Fluorescence (LIF) site characterization tools, WCEC offers the following HRSC services:
LIF non-aqueous phase liquid (NAPL), in-situ screening tools

DyeLIF(TM), TarGOST® & TarGOST-HP (DNAPL)

UVOST® & UVOST-HP (LNAPL)

Dual LIF Technology Tool (UVOST & TarGOST)

Membrane Interface Probe (MIP) & Low Level MIP

Hydraulic Profiling Tool (HPT)

2D & 3D Data Visualizations

Electrical Conducitivity
Most decisions regarding contaminated groundwater sites are driven by contaminant concentrations. These decisions are improved through use of HRSC technologies, which provide greater data density and enhance the practitioner's understanding of site-specific contaminant mass discharge and mass flux.
Read below to learn more about how HRSC methods compare to traditional site characterization methods, and how HRSC practitioners achieve faster, more reliable and more cost-effective cleanup solutions.
---
HRSC Methods vs Traditional Site Characterization Process
High Resolution Site Characterization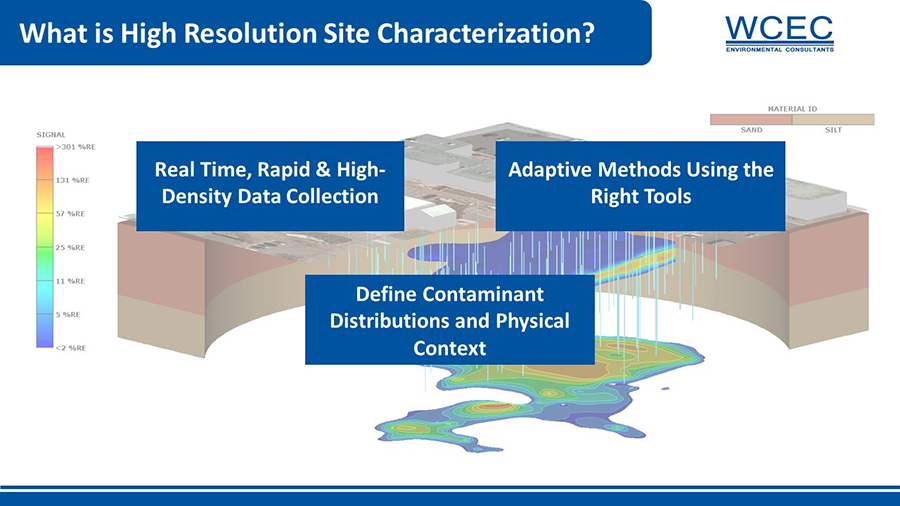 Produces a more detailed characterization of mass flux

Reduce uncertainty through scale appropriate measurements

Adaptive approach for single mobilization delineation

Robust and reliable conceptual site models

Develop right-sized, targeted remedies that focus on the mass that matters
Traditional Site Characterization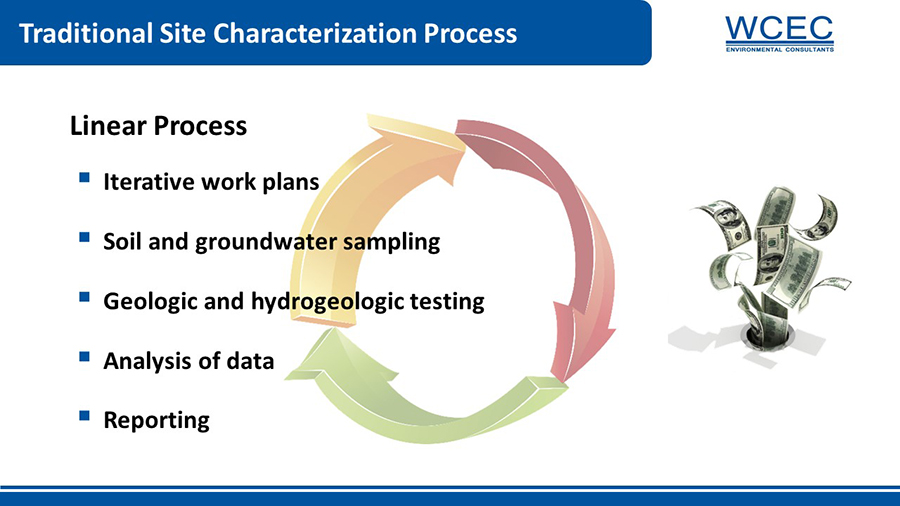 Iterative work plans

Soil and groundwater sampling

Geologic and hydrogeologic testing

Time consuming analysis of data

Reporting followed by additional field sampling to complete delineation

Poor differentiation between contaminant phases

Poor characterization of subsurface heterogeneities
---
Laser-Induced Fluorescence (LIF)
Ultra-Violet Optical Screening Tool (UVOST®)
The UVOST is an LIF technology and the culmination of nearly two decades of field experience as LIF service providers. Its highly sophisticated yet rugged design allows the UVOST to reliably delineate nearly any petroleum NAPL including gasoline, diesel, crude oil, kerosene, and many others. It can be deployed by any type of direct-push platform. UVOST is simply the world's finest LIF system and it was built to do one thing – find petroleum NAPL.
UVOST is delivered with direct-push platforms such as Geoprobe (hammerable) and CPT. The probe features a sapphire window in the side allowing direct fluorescence measurements as the probe is steadily advanced into the soil. PAH fluorescence of fuels/oils is directed back to the surface where it is analyzed. Responses are indicated in real-time on a graph of UVOST signal vs. depth. The logged results are color-coded and contain hundreds of waveforms to aid in proper interpretation of the fluorescence response.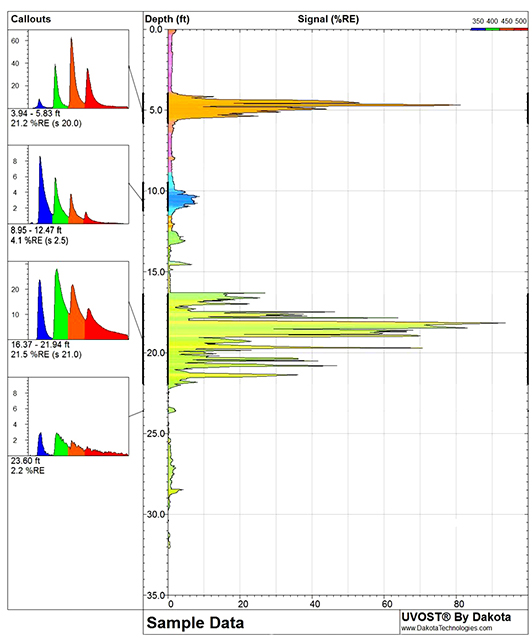 The following PAH-containing, non-aqueous phase liquids (NAPLs) are detected in-situ with the UVOST:
UVOST-HP
The new UVOST-HP tool enables the practitioner to efficiently delineate LNAPL petroleum while simultaneously classifying the scales of lithologic variability that control mass storage and transport in the source and distal segments of the LNAPL plume.
Tar-Specific Green Optical Screening Tool (TarGOST®)
WCEC teams with Dakota Technologies to provide Tar-specific Green Optical Screening Tool (TarGOST) HRSC services to our clients. The TarGOST is designed specifically for delineating coal tars and creosotes - the non-aqueous phase liquid contamination typically found at former MGP and wood treater sites. More information regarding the TarGOST technology can be found on the Dakota Technologies website.
Dye-enhanced Laser Induced Fluorescence (DyeLIF)
WCEC teams with Dakota Technologies to provide Dye-enhanced laser induced fluorescence system, or DyeLIF, HRSC services to our clients. The DyeLIF is Dakota Technologies' new chlorinated DNAPL sensing technology. DyeLIF has the ability to rapidly and precisely delineate DNAPL because it does not respond to dissolved-phase chlorinated solvents. More information regarding the DyeLIF technology can be found on the Dakota Technologies website.