Underground Storage Tank and Aboveground Storage Tank Services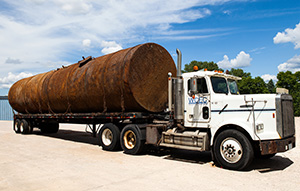 WCEC provides underground storage tank (UST) and aboveground storage tank (AST) cleanout services during tank removal and maintenance activities. If a regulated UST or AST is taken out of service and/or removed, all flammable, combustible, or other liquids are required to be removed from the system. Additionally, the tanks are to be purged of explosive vapors and monitored with an appropriate meter for vapors before, during and after removal.
Our services for UST and ASTs include:
UST and AST salvage and routine maintenance

Flammable trap cleanouts

Cleaning and maintenance of large (up 3 million gallons and greater) tanks

Fully certified UST removal services
---
Use our tank volume calculator above to estimate the total and filled volumes of tanks such as oil tanks and water tanks. The volume calculators provided by WCEC IS are based on inside dimensions of the tanks and exact geometric solid shapes such as cylinders, circles and spheres. Actual water and oil tanks may not be perfect geometric shapes or might have other features not accounted for here; therefore, these calculations should only be considered estimates.
---