Health and Safety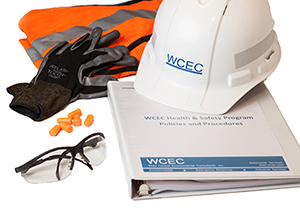 WCEC's health and safety program is based on the fundamental principle that all work will be performed in a safe manner so that no injuries to anyone, at any time will occur. Our safety policies, processes and systems support this goal, and every employee knows that their right and responsibility is to always be safe at work.
Safety starts with leadership and participation, and promoting a business culture that recognizes the importance of working safely on every project, every day. WCEC is committed to continual improvement of our work procedures and safety performance. The importance of safety is advocated throughout the WCEC Family of Companies by focusing on internal, client and Occupational Safety & Health Administration (OSHA) requirements.
A safe and healthy work environment impacts every aspect of a firm's success, from work life quality to productivity and profitability for every employee and every client. As April 1, 2017, WCEC has had 627 consecutive days without a reportable injury.