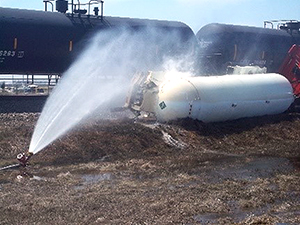 At an uncontrolled rail crossing near the intersection of a State Highway and a County Road, a train collided with a truck transporting anhydrous ammonia (NH3). WCEC responded as a State of Minnesota Chemical Assessment Team (CAT) contractor and also with a separate team as a spill responder for the railroad. In these roles, WCEC completed perimeter vapor monitoring for a 5,000 gallon NH3 release. When a specialized pressure-vessel contractor for the railroad arrived and the CAT team departed, WCEC continued to provide air monitoring support for the railroad contractor.
Vapor suppression by the local fire department generated nitrogen contaminated water in the road ditch next to the incident. WCEC coordinated plugging and diking with soil for water runoff protection. As support the railroad's specialized contractor, WCEC provided vacuum trucks to assist in transferring product from damaged truck tanker. WCEC also installed traffic control under a Minnesota Department of Transportation (MNDOT) permit in order to pump and dispose of suppression water in the ditch. WCEC vacuum trucks operated 24 hours per day to pump and haul over 130,000 gallons of contaminated water to a nearby disposal site.
At the request of the MN Department of Agriculture (MDA) and MNDOT, WCEC completed a soil boring investigation of the ditch areas impacted by nitrogen contaminated water. Throughout the incident, WCEC provided personnel, supplies and equipment support to the railroad contractor, the trucking firm, other response contractors employed by the railroad, the local County Emergency Management Department, law enforcement, the local fire department and State Agency personnel.