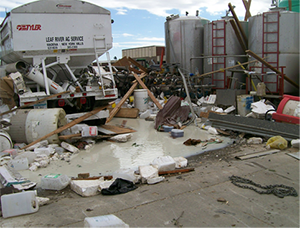 In June of 2010, an EF4 Tornado traveled through the western side of Wadena, Minnesota. The tornado, with peak winds of 170-miles per hour, destroyed the agronomy facility owned by Leaf River Ag. WCEC personnel responded to the incident to complete a hazard assessment and recover spilled chemicals and leaking chemical containers caused by the tornado. Following emergency response activities, a comprehensive investigation was completed to assess and remediate resulting environmental impacts.
Emergency Response
The initial incident response included the neutralization of a leaking anhydrous ammonia nurse tank. A total of 6,800 gallons of anhydrous ammonia and water were collected by WCEC response staff and stored for off-site land application. The tornado razed the seed warehouse, chemical storage warehouse and maintenance shop. In addition, the dry fertilizer warehouse roof and walls were torn off, exposing the dry fertilizer bins. The tornado dispersed small container pesticides, fertilizer, and treated seed across the site. Continued wet weather after the tornado raised concerns for precipitation leaching of chemicals.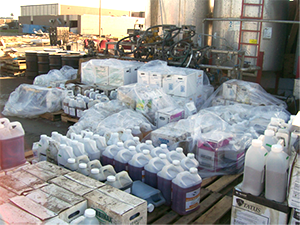 All pesticide containers (empty, full, partially full) and treated seed were collected and inventoried. The incident caused commingling of several types of pesticides and fungicides, creating a complex and variable waste product. A total of 36 drums of waste were recovered. In addition to container recovery, WCEC completed several small excavations, accumulating approximately 5 cubic yards of fertilizer- and chemical-impacted soil. WCEC completed the MDA's Proposal to Land Apply Soil from Agricultural Chemical Emergency Incidents. Upon approval from the MDA, the material was transported for off-site land application.
In addition to the solid and liquid product recovery, precipitation during the tornado caused an accumulation of water and a complex mixture of herbicides and pesticides. Approximately 1,800 gallons of pesticide/herbicide rinsate was collected from within bermed areas and sumps. To profile the waste, WCEC submitted samples to Pace Analytical laboratory for Toxicity Characteristic Leaching Procedure (TCLP) analyses. WCEC completed the MPCA's Notification of Regulated Waste Activity, which allowed for a one-time waste generator permit. The regulated waste was transported by Smith Systems Transportation to Clean Harbors for disposal.
MDA Comprehensive Program
Because of the extensive impacts of the tornado, the MDA requested that Leaf River Agronomy complete a Comprehensive Agricultural Investigation to determine the nature of the resulting chemical and fertilizer release. Per MDA guidelines, WCEC completed a Phase I Environmental Site Assessment (ESA) following the methods of ASTM E-1527-05 and the EPA's "All Appropriate Inquiries" rule. The Phase I ESA documented historical site use, historical releases/spills and previous remedial actions. Based on the findings of the Phase I ESA, 11 Areas of Concern were identified. WCEC submitted the Remedial Investigation Work Plan proposing that the extent and magnitude of fertilizer- and chemical-impacted soil be defined in the Areas of Concern.
The remedial investigation results indicated elevated nitrogen and chemical compounds above the MDA cleanup goals. WCEC submitted a Remedial Investigation/Corrective Action Plan recommending that soil with impacts above cleanup goals be excavated. After a complete facility demolition, WCEC supervised the excavation of approximately 600 cubic yards of soil. Excavated soil was land applied as proposed and approved by the MDA in the Proposal to Land Apply Soil from Agricultural Chemical Incidents. Based upon confirmation laboratory results, the MDA approved the corrective action and granted a No Further Action determination.
Beneficial Outcomes
Rapid assessment, containment and remediation activities immediately following the tornado limited additional environmental impacts to soil and groundwater at and around the site. Subsequent delineation and excavation activities remediated fertilizer and chemical impacts to soil at the site. Excavated soil was re-used by land application at an agronomical rate. Ultimately, Leaf River Ag's successful completion of the MDA Comprehensive Agricultural Investigation Program facilitated a land swap agreement between the City of Wadena and Leaf River Ag. The agreement allowed for a new agronomy plant in an improved location for Leaf River Ag. The successful cleanup allowed for financing and expansion space for a new Wadena Community Center project.