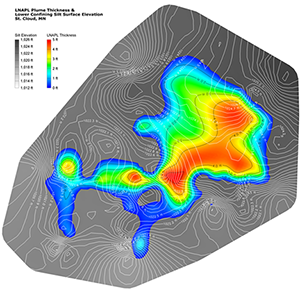 Under the direction of the MPCA, WCEC completed a hydrogeologic investigation including contaminant fate and transport modeling as part of an emergency response/accelerated site investigation at a retail petroleum distribution facility in St. Cloud, Minnesota which had experienced a catastrophic petroleum release from a UST system.
Data from approximately 150 laser-induced fluorescence (LIF) boreholes distributed over approximately 4 large city blocks (approximately 6 acres) were used to develop 3D visualizations of the extent and magnitude of the actively migrating LNAPL body. Borehole locations were surveyed using an electronic total station to obtain tight horizontal and vertical control with sub-centimeter precision, enabling the creation of a high-resolution conceptual site model. Direct-sensing downhole electrical conductivity (EC) data were used to incorporate lithologic information. ISVs were developed based on the amalgamation of the LIF response data, EC lithology data, and the highly accurate surface topography data.

The 2D and 3D visualizations generated by WCEC using MVS software revealed a lower confining silt aquitard unit with a gently dipping gradient that appeared to be controlling horizontal and vertical migration of the LNAPL. Flow path analysis of the silt surface performed in AutoCAD Civil 3D confirmed that the axis of LNAPL plume migration was coincident with the calculated silt surface flow vectors. This information was crucial for project team leaders as the project transitioned from the emergency response into the remediation and cleanup phase.