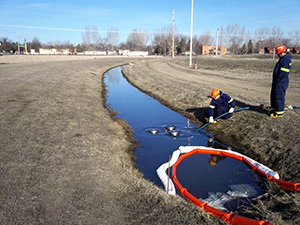 A filter vessel gasket failure occurred at a pipeline terminal facility in west-central Minnesota in April 2013. The responsible party retained WCEC to respond to the incident as facility staff stopped the release and notified the State Duty Officer. The facility is located in an urbanized area, surrounded by college and residential buildings. Product entered a series of linear ponds associated with the stormwater management network for the facility. Prompt action taken by WCEC and facility personnel contained the fuel within the facility boundaries.
WCEC mobilized vacuum trucks to remove recoverable product from the ground surface and connected ditches where fuel had accumulated. This included deployment of trucks operated WCEC Industrial Services. Response actions resulted in recovery of approximately 4,800 gallons of product, and an additional 100 gallons of product was captured with sorbent materials. Due to successful recovery, the spill was considered stabilized by the Minnesota Pollution Control Agency (MPCA) within 48 hours of the release incident.
Despite the excellent recovery for spilled fuel, facility representatives were concerned that vapors in a partially enclosed manifold shelter would put workers at a health and safety risk. The ground areas comprising the floor of the shelter and surrounding area was therefore double-flushed and all water was collected for offsite disposal. WCEC monitored the area for residual sheen, and no sheen was observed.
WCEC documented the release characteristics and response actions in a report to the MPCA which recommended closure. The report provided documentation such as photographs and copies of waste disposal records, and the MPCA closed the SPILLS file for the incident in June 2013.