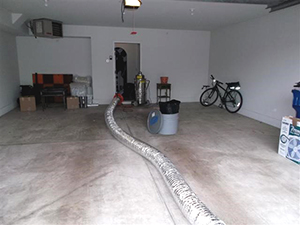 A large antique thermometer containing mercury was damaged during shipping to a residence in the Minneapolis St. Paul Metropolitan area, resulting in mercury being spilled by the home owner during unwrapping in October 2013. The Minnesota Pollutionn Control Agency (MPCA) contracted WCEC to respond to the spill, and WCEC was onsite to perform emergency response activities within 2 hours.
After discussing the events surrounding the spill with the homeowner, WCEC staff donned personal protective equipment (PPE) and screened ambient air for mercury vapors with a Lumex® meter in the garage and garage entryway to the house. Mercury beads were observed in the garage entryway, entryway rug, vacuum cleaner, and lower level wool carpeting. WCEC used a mercury vacuum to collect visible mercury beads.
Mercury vapor readings ranging from 1,000 to 14,000 ng/m3 were measured throughout the lower level of the house, on the stairs leading up to a second level of the home, and in the upstairs dining room area. WCEC completed additional vacuuming of selected areas of high vapor readings.
WCEC completed a thorough screening of the entire home, then removed all contents of the lower level to a clean area of the garage, cut out and removed the wool carpet and wrapped it in plastic, containerized various items and clothing in drums, and set up a temporary ventilation system.
The home was considered stabilized on the day of the response and the ventilation system was operating to limit resident exposure to residual vapors. WCEC returned to the home to complete follow-up screening. Spill waste materials were delivered to a Hennepin County HHW collection site for disposal. The follow-up screening data were submitted to MPCA and the home was subsequently deemed safe for occupancy by the MPCA.