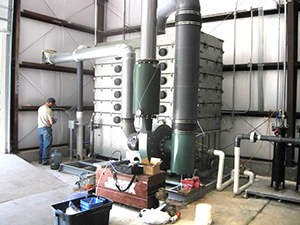 WCEC constructed a water treatment facility to dewater a fractured bedrock aquifer contaminated by a gasoline release on the shoreline of the East Bay of Flathead Lake near Polson, Montana. WCEC was responsible for all aspects of the engineering design, permitting, and construction of the 500 gpm system which includes the following components:
Greater than 500 lineal feet of groundwater interceptor trench

Automated pump basins equipped with transducer-controlled variable frequency drives (VFDs)

24 g/hr ozone injection for direct chemical oxidation and to control microbial fouling

25 horsepower regenerative blower connected to a shallow-tray air stripper

300-gallon silica sand filtration vessels

50-micron particulate bag filters

4,000-gallon GAC vessels

Rock-armored outfall in lakebed for effluent discharge subject to NPDES regulations

2,400 sq. ft. steel warehouse building

Multiple automated electronic alarm devices, backup controls, pressure gauges, and flow meters
This water treatment system was constructed in an ecologically sensitive area, on a steep, timbered slope in the midst of several wetland ponds near the lake shoreline. WCEC successfully navigated all permitting hurdles associated with this challenging construction site which included obtaining approval from overlapping county, state, federal, and tribal government agencies. In addition, the building site is located on a neighborhood commons parcel owned by adjacent landowners who were impacted by the gasoline release and were required to temporarily evacuate their homes due to vapor intrusion concerns. WCEC implemented design considerations for an unobtrusive building profile, noise abatement, and VOC emissions controls based on landowner input.
WCEC's straightforward and open approach to system design allowed for a collaborative process in which WCEC gained the trust of all interested parties, both public and private. WCEC performs ongoing operation and maintenance and NPDES compliance monitoring of the system on a weekly basis. The system design successfully meets all NPDES requirements, is reducing groundwater contaminant concentrations, and satisfies the nuisance concerns of adjacent impacted landowners. Following the remediation system design phase of the project, WCEC worked with all project stakeholders to develop, design, and manage restoration of the impacted properties and lakeshore for long term beneficial end uses including residential, recreational, and habitat enhancement.